Whitepaper: Global Crisis, Local Solutions
Delivering asset finance growth in 2021 and beyond
If the global Coronavirus pandemic were to have a single lesson, it would be the importance of preparing for the unexpected; as the global economy restarts, the door is opening on a much-changed world that offers a wealth of opportunities, but also new risks.
As businesses build a path to growth in this uncertain environment, asset finance will play a critical role, powering investment and enabling rapid deployment of equipment that will underpin the future profitability of companies.
Our latest whitepaper looks in depth at the global crisis, and assesses how the leasing industry is responding with local solutions.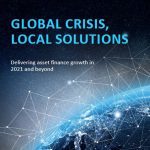 Whitepaper download

Please complete all fields
Please see our privacy policy for more information.