Acquis is heading to Vienna for Leaseurope's prestigious annual event this week, where we proudly sponsor and participate as long-standing members. Amid discussions on industry trends like digitalisation and sustainability, this event provides an ideal platform for engaging with fellow industry experts.But what does the Austrian capital offer visitors beyond the event? 
But what does the Austrian capital offer visitors beyond the event?
Mozart, Sigmund Freud, or Hundertwasser – Vienna is the home of cultural legends and is always worth a trip to discover more about this intriguing city.
Here are our top 5 ideas for conference attendees to spend their downtimE:
1. Schönbrunn Palace: more than an imperial summer residence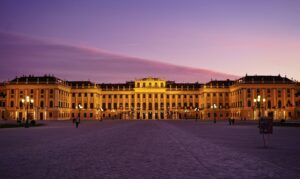 How about a trip to the Palace of Schönbrunn? 
This beautiful building in its present form was built in the 18th century and has the Palace of Versailles as its model. 
Of the 1441 rooms, 45 can be visited on a guided tour. Also worth seeing is the nearby park and zoo Schönbrunn, at 271 years old – it's the oldest zoo in the world.
2. Prater: above the roofs of Vienna  
The Prater is an amusement park with 250 attractions in the centre of Vienna. The park has been around since 1766 and was built to celebrate the 50th anniversary of the throne of Emperor Franz Joseph. The highlight is the 65-meter-high Ferris wheel and the many different food stalls with everything you could wish for from sweet to salty.  
3. Vienna State Opera: from Mozart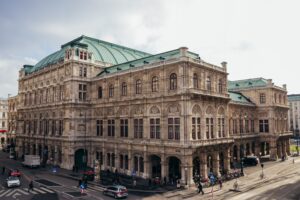 The Vienna State Opera is definitely worth a visit. The opera house has been around since 1869 and is the city's most important stage for performing arts.
4. Specialty foods
Many specialities must be tried in Vienna. A real Wiener Schnitzel, for example, at "Plachutta". The thinly pounded meat, with crispy breading, should only be tried in Vienna. In addition, you can't miss a Tafelspitz from the Restaurant "Zum Schwarzen Kamel." The beef is tender and well cut into thin slices. The traditional sweet apple strudel makes all our hearts beat faster. You can get it at the "Café Bräuner Hof," also, you can get a real Sacher cake there, which makes your taste of Austrian cuisine complete. 
5. Albertina: culture for everyone
Art lovers can get their money's worth in the Albertina Museum in Vienna's 1st district. Visitors can admire art from across the world at the curated exhibitions. The collection houses some of the world's most important works of art, from Monet to Picasso to Magritte; all greats are represented there. Plus if you are still hungry after your visit, you can reach the Hotel Sacher in a few minutes and taste their world-famous cake! 
If you're attending the Leaseurope conference, be sure to visit our stand for a giveaway.