At the start of 2022 businesses were no doubt hoping that this would be the year when calm would be restored and were poised to welcome in a return to BAU. But 2022 wasn't playing ball; instead it was the year that played host to several major once-in-a-generation events which would bring continued volatility and uncertainty to the asset finance market in Europe.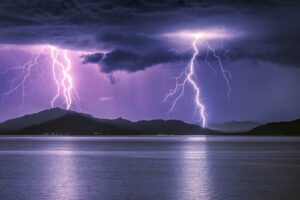 Going into 2022 the aftershocks of the global pandemic were still being felt. Supply chain issues, inflation and the soaring cost of lending were early and perhaps predictable signs that the pandemic hangover had a sting in its tail. Yet few would have predicted that just two months into the year we would be facing war in Europe, the impact of which was sudden and profound. With fuel costs hitting an all-time high almost overnight, people across Europe were facing a cost-of-living crisis.
So how did the leasing industry fare during 2022 and what effect did these shocks and aftershocks have on leasing volumes and lending performance?
The Acquis Index for 2022 can reveal that despite several major economic events coinciding, the leasing industry in the UK performed relatively well. Entering the year, volumes of new leases signed were still lagging 6% behind pre-pandemic deals. However, apart from a seasonal glitch in July, monthly volumes recovered quickly and then performed consistently at pre-pandemic levels. Despite many predictions to the contrary, and fuelled by a steady stream of negative media, the industry was not as impacted by the economic turmoil as we had been led to expect.

A closer inspection of leasing volumes by industry sector in the UK reveals that after a slow start to the year, hard assets made up on lagging volumes and finished the year level pegging with 2019 volumes. Similarly, office equipment and restaurant & retail were also sectors which fully recovered to pre-pandemic volumes. The one sector in the UK leasing market that has been unable to reverse the downward trend that began following 2020 is computer equipment. This may be down to a reset after the spike we saw at the beginning of the pandemic when companies rushed to arm remote work forces with computer technology. It is also symptomatic of a shift towards the adoption of mobile technologies which has resulted in a small shift in portfolios as the use of tablets and mobile devices replaces more traditional computer tech.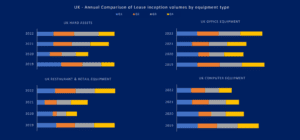 For Europe, the volatility that the UK experienced early in 2022 was more protracted with volumes fluctuating throughout the first half of the year. We witnessed this affecting countries in the Nordics and Iberia regions particularly, whereas leasing economies like France, Germany and the Netherlands were less impacted.  However, following the seasonal lull that we witness in Europe every year during August, recovery stuck to an upward trend finishing the year on a par with 2021 figures.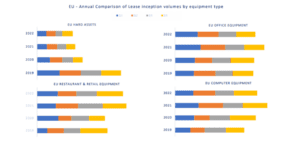 A closer look at specific market sectors in Europe tells a different story to the UK. New leases for hard assets continued to decline from 2021 volumes and office equipment volumes also experienced a contraction during 2022. Yet retail and industrial equipment were both sectors which performed well in Europe and finished the year ahead of 2021 volumes.
James Rudolf, CCO for Acquis comments, "Looking at 2022 in review is a really helpful way of making an objective assessment of the health of the asset finance industry in the UK and Europe. If you believe everything you read in the papers, then it would have been easy to assume a lower than average performance of new leasing volumes. But the reality is that the data tells an altogether more positive story than predictions and events might have suggested at the beginning of the year. The fact that most sectors of the asset finance market were able to maintain or improve on 2021 performance shows the resilience and agility of the market and that, despite all the unprecedented events of the year coinciding to create market volatility, the asset finance industry was able to come out on top."
With regards to predictions for the coming year, James Rudolf added: "There's no doubt that a high degree of uncertainty remains, will countries across Europe now avoid the recession that was so confidently predicted just weeks ago? Will economic performance continue to out-pace predictions? 2023 is certainly going to be another interesting year for the asset finance industry but there's no doubt that those companies that have overcome the turmoil of the last few years are very well placed to take advantage of the opportunities recovery will bring."