The Acquis Index shares the trends that Acquis is witnessing in equipment leasing volumes which may prove a useful indicator for emerging trends in the wider leasing industry.  
Each year, lease inception volumes are impacted during Q3 by the August holiday dip, and this year is no exception in the UK; yet while the annual August effect is evident in the data, it appears shallower than in previous years, suggesting businesses are eager to make hay while the sun shines and continue on their journey to full recovery. Overall, Q3 delivered the best performance in terms of recovery to pre-pandemic volumes since the crisis began recovering to 90% of typical volumes for this time of year in the UK.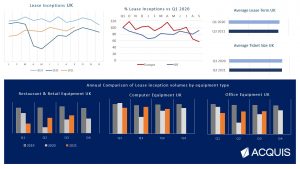 The impact of national holidays in Europe was not felt as mildly; where even though continued travel restrictions and Covid measures will have gone some way towards subduing the August effect, Europe experienced a steep downturn in volumes during both July and August with little sign of a strong bounce back beginning in September. 
A look at equipment classes in the UK reveals restaurant and retail equipment continued on an upward recovery trajectory but has still some way to go to recover to 2019 volumes. Computer equipment continued to perform well just falling short of a full recovery to pre pandemic volumes. And the performance of office equipment remained static when compared to the previous quarter, which may be indicative of a longer term shrink in this category, or point to other factors such as supply chain issues, only time will tell.   
During last quarter's index we predicted average lease terms may begin to creep up as customers look to spread the cost of borrowing, and average ticket size may reduce as a result of a move to mobile working. However, neither of these trends is evident in the UK which we continue to monitor for longer term after-effects. 
Acquis' Chief Commercial Officer, James Rudolf, comments, "It's a really positive sign that traditional factors that usually go towards suppressing leasing volumes are having milder impacts this year, testament I think to the determination of British businesses to continue on their recovery paths whatever the weather. It will be interesting to see whether this continues through Q4 which may take the brunt of the third wave of the pandemic, which will by no means be as severe as last year, but the impact of staff shortages, increased absence from work due to winter illnesses, and supply chain issues may all contribute to supressing volumes, but we are optimistic that the signs we see of the determination of business in the UK to make a full recovery will outweigh any of these lingering effects."  
ABOUT THE INDEX: As an independent insurance administrator working in partnership with over 100 leasing companies across 16 European countries, Acquis has been providing specialist insurance programmes for equipment leasing for over a decade, and during the course of this time our management data has proved to be a reliable early indicator of changes in new business volumes across the leasing industry.  
Acquis' own volumes are predominantly made up of small ticket equipment with an average ticket size of €12,000.  58% of the volumes are made up of IT / office equipment, 15% retail and 12% manufacturing, with the remainder consisting of construction, material handling, medical and other assets.